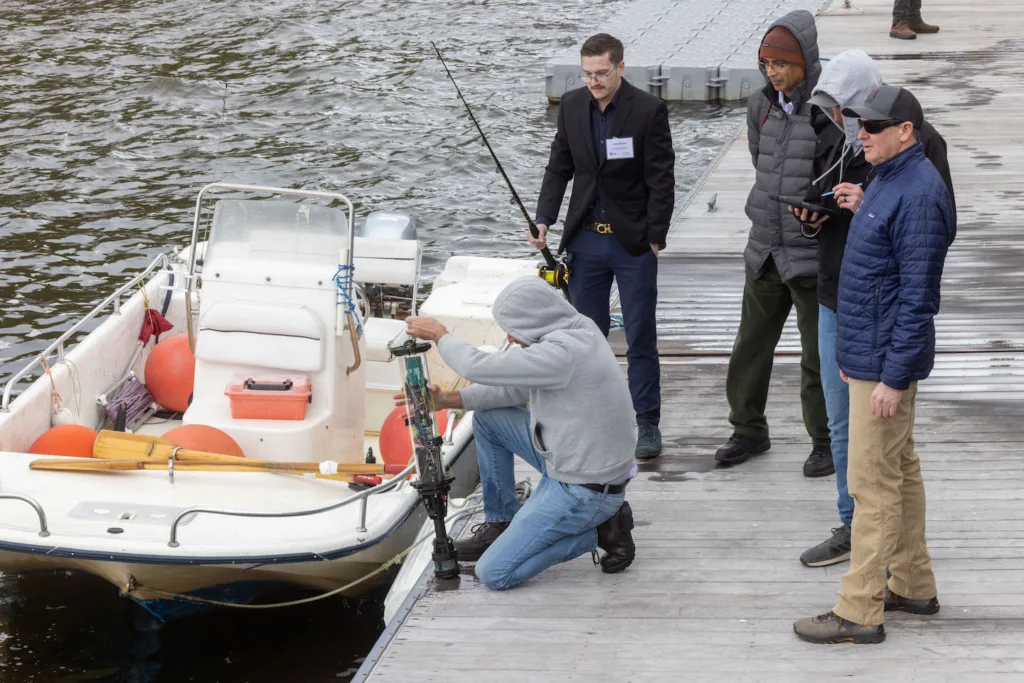 With over 100 attendees, the event connected bluetech founders with investors, resource providers, and customers and showcased RWU's talented students!
The Blue Venture Forum's first In-water Equipment Demo Day is over and it was a success. We are now working to ensure that all Demo day presenters (FlashTalks, Demonstrators, and Exhibitors) are connected with the investors and resource providers who were there that day. Check out the recap video on our website. See below for more information and photos of the event.
While we appreciate everyone who attended, we want to especially thank our demonstration day team, including Bo Gillie, Roger Williams, Roger Race, Dartmouth Ocean Technology, Bill Lynn, Herreshoff Marine Musuem, and Nate Walton, Sachem Strategies. And, we want to thank Peggy Foley, Edit & Motion Graphics, for her great work capturing the images of the day. See below for more information.
Also, if you haven't already, listen to a recent podcast from Happy Planet Capital where they interview Benjamin Sorkin, Founder & CEO of Flux Marine (thank you Abigail for the BVF shoutout at the beginning of the show!).
Photo: The Aurelia Ocean Profiler team, from UMass Dartmouth, deploys off the dock at Roger Williams University
401 Tech Bridge Selects BlueIQ to Participate in Demo Day
On Demo Day, we featured 14 great presentations so congratulations to BlueIQ for being selected by the team from 401 TechBridge to participate in one of their upcoming demonstrations. Congratulations!
Pictured (from L to R): Maggie Merrill, Blue Venture Forum, Linda Larsen, 401 TechBridge, Kim Gavin, BlueIQ, and Robert McGurrin, BlueIQ.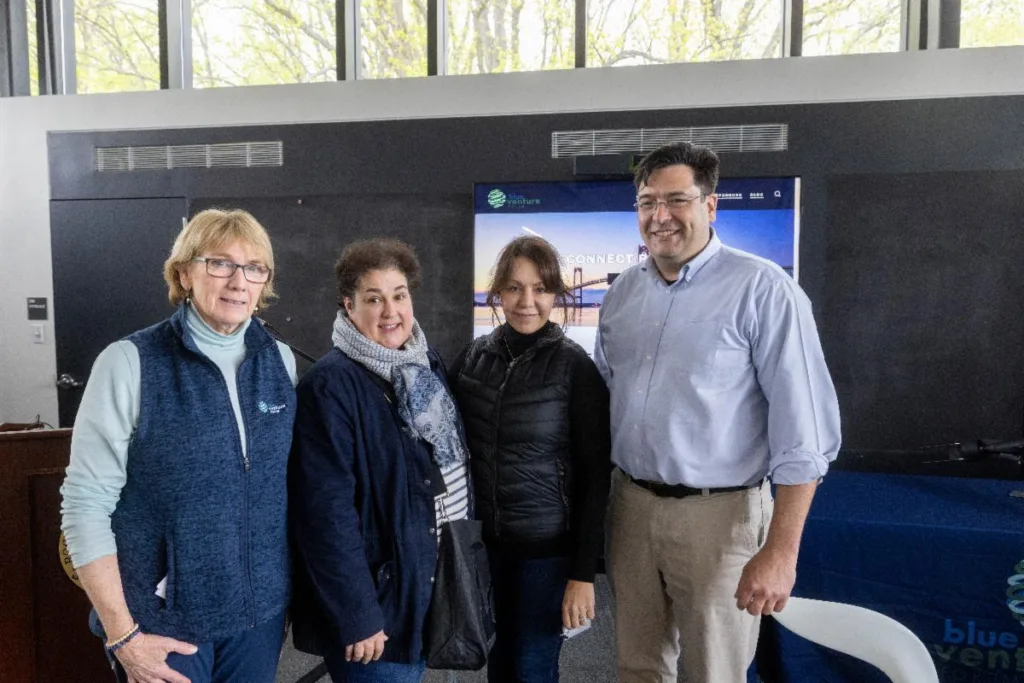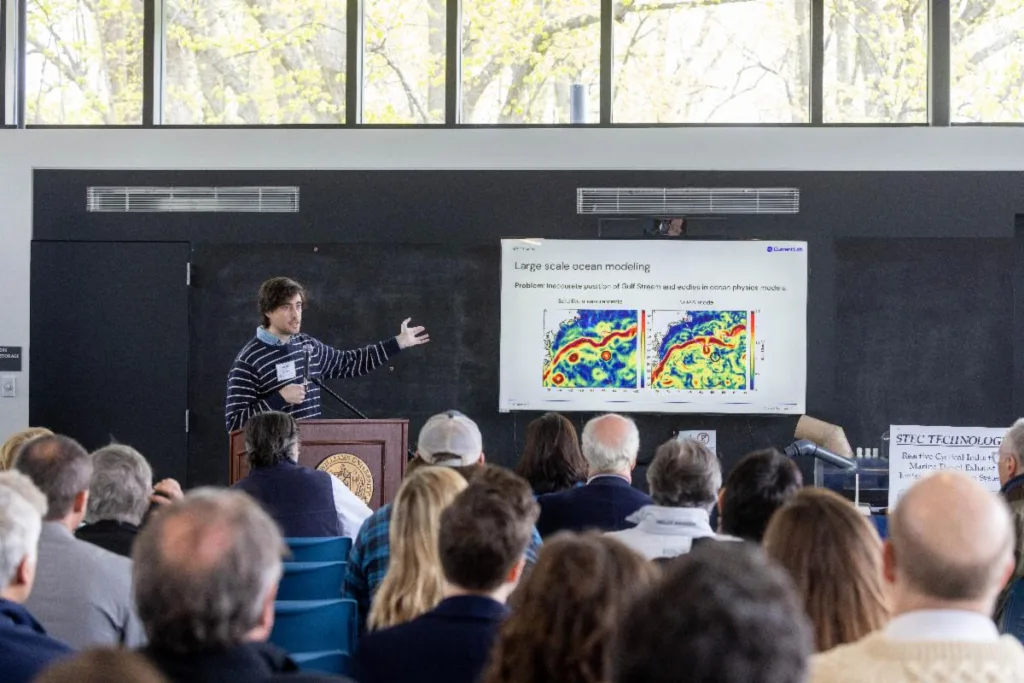 Kevin Rosa, Founder, Current Lab, provides real-time forecast for demo day
Current Lab Founder, Kevin Rosa, PhD, ran a high-resolution forecast of the ocean conditions around the in-water demo area providing demonstrators with free access to the data via the Current Map web app on site at the Blue Venture Forum In-Water Equipment Demo Day held on May 4 at Roger Williams University. Kevin explained how he is able to overlay many layers of environmental data to simultaneously display surface currents.
Pictured: Kevin Rosa, PhD, founder, Current Lab, describing his system for delivering accurate, real-time current maps.  
During our Demo Day, we featured ten Flash Talks from founders, seeking to raise capital or connect with resources, and from representatives of organizations that are providing support to blue tech founders. Each presenter had 5 minutes to describe their technology or resource. Based on the conversations that occurred, during the day, we know that the Investors were listening carefully and we're now working with several of the presenters to help them to connect.
The participants included:
Left Hand Picture (from l to r):
Blue IQ, Low Power Passive Acoustic Sensors, Kim Gavin and Robert McGurrin
Sonalysts, Data Compression for UUVs, 
Gary Lucas
Deep Blue Composites, advanced materials for blue tech applications, Darya Blout
Levanta Tech, Under and above water drone for survey, Rhonda Moniz
Fathom Fishing, Environmental Monitoring Buoy for Aquaculture Ops, Andy Whitman
Right Hand Picture (from l to r):
VATN Systems, Smaller, lower cost AUVs for remote military ops, Nelson Mills Applied Research Associates-Ohmsett Facility – Scale model test tanks and capabilities, Len Zabilansky
nU-Boats, Innovative AUV Design, Kevin Ulmer
Littoral Power Systems, Inc., Hydro power devices to generate electricity, David Duquette
Coastal Protection Solutions, Inc., Wave attenuator for coastal protection, Alex Berkowitz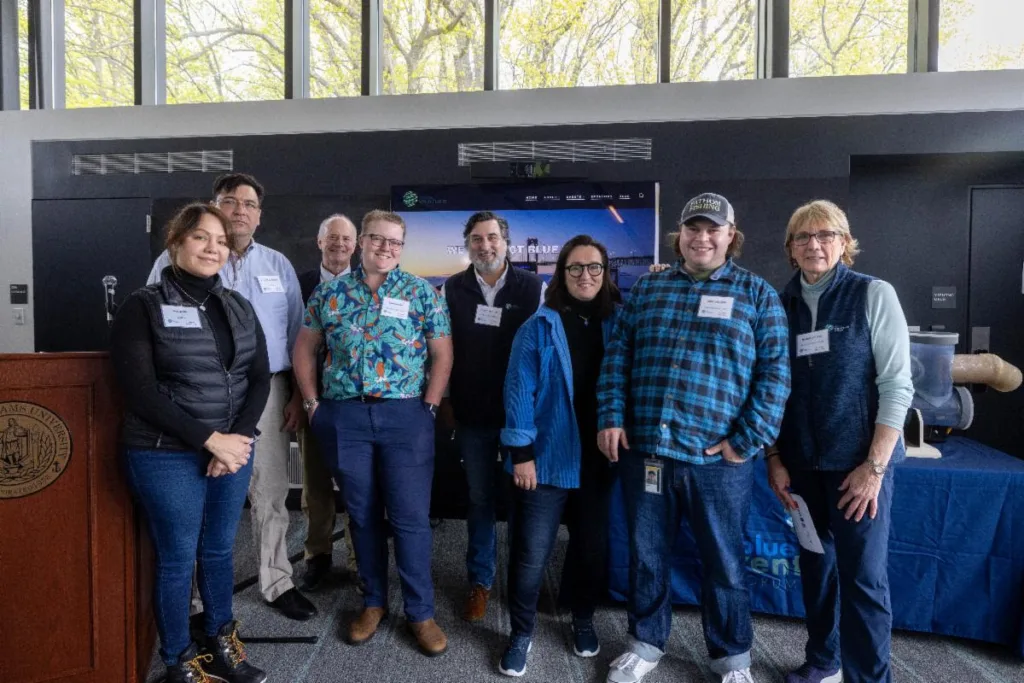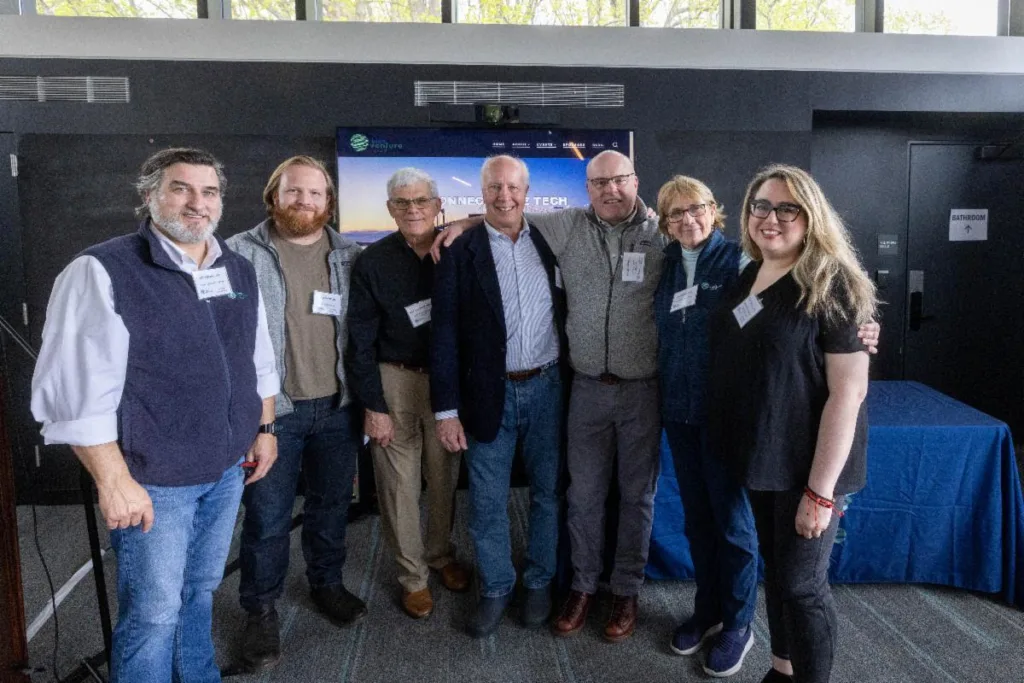 STEC presents a novel system for removing toxic emissions from marine diesel engines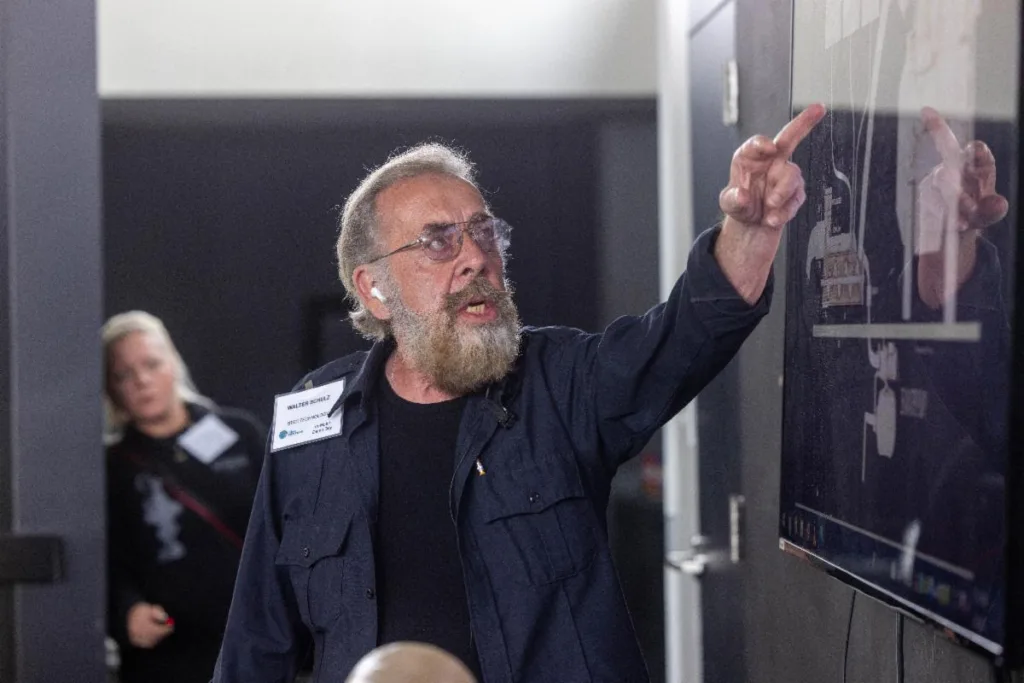 Walter Shultz (pictured) Inventor, visionary, founder of Shannon Yachts and now STEC Technologies provided an overview of their innovative and patented method of removing NOX from small and large marine diesel engines. It's an exhaust system that can be retrofitted aboard recreational diesel boats as well as commercial boats up to 300 ft. The system is labeled, Reactive Cyclical Induction (RCI) and it is many times more efficient than what is now being used to decrease toxins in diesel systems.
STEC has spent the last three years designing this new treatment system that will easily fit in the engine space of a boat with no modifications to the existing engine or equipment. The STEC RCI system will reduce NOx by 80%, and PM, HC, SO2 and CO2 by 50%.
STEC has received SBIR funding through the National Science Foundation and is now seeking to raise additional financing.
If we can help you connect with Walt and his team, please let us know: [email protected].
The Aurelia Upper Ocean Profiler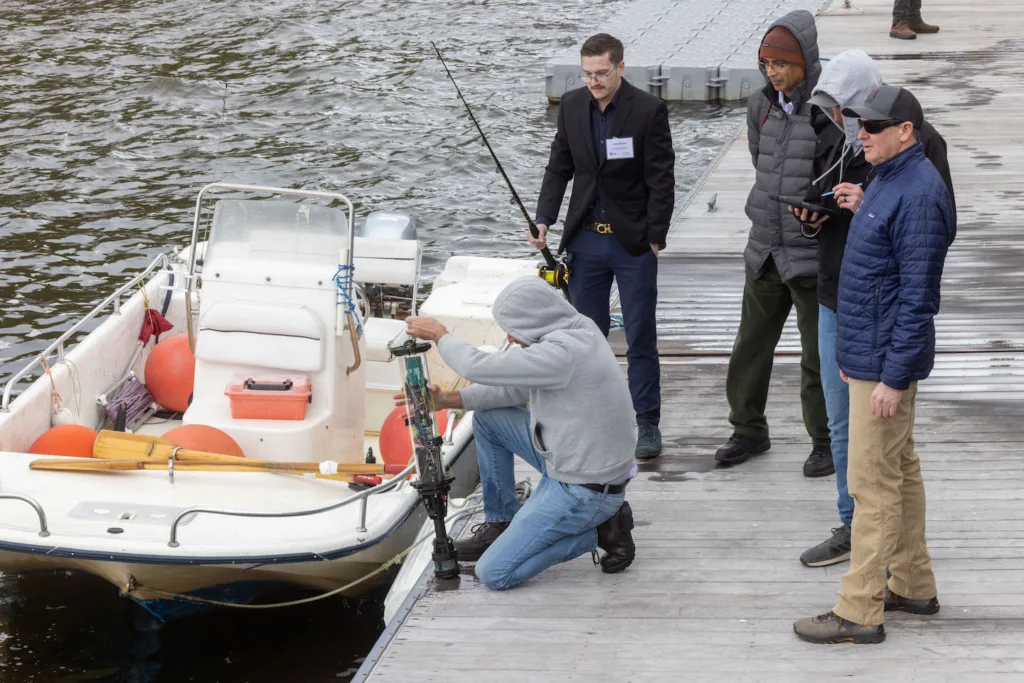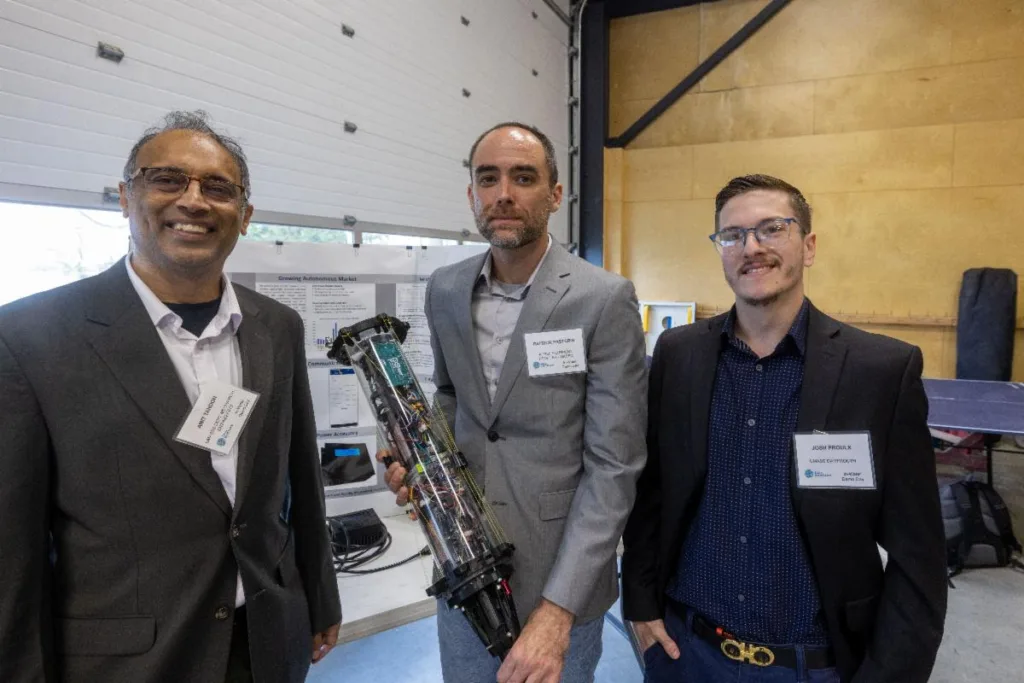 The Aurelia Upper Ocean Profiler (UOP) Lite is the first vehicle in an upcoming line of upper ocean profilers. The Aurelia UOP is an inexpensive, lightweight and user-friendly vehicle for ocean sensors used to plan and execute missions for scientific data gathering and surveying. The design was created to be easily customizable and scalable to reach greater depths and accommodate more user's needs with little-to-no training. The Aurelia UOP is transitioning out of research and development and will be looking for partners to move forward into design for manufacturing and commercialization. The project has been funded by the Office of Naval Research and the University of Massachusetts President's office and has filed for an international patent.
Aurelia is a handheld vehicle (~10 lbs.) which is programmed through Bluetooth using an android smart device. After giving an overview of the system, Pasteris, deployed the device from the dock with a fishing line tether. It performed as predicted and was recovered without a hitch. 
Aurelia is now looking for help to commercialize this new technology. Contact [email protected] if you are interested in getting in touch.
Pictured: Above: The team deploying the Aurelia Upper Ocean Profiler from the dock at RWU. Below: Amit Tandon, PhD, Professor UMass Dartmouth School of Marine & Science Technology (SMAST), Patrick Pasteris, Founder, Aurelia Upper Level Current Profiler, and Josh Proulx, Student, UMass Dartmouth.
Jaia Robotics is democratizing data collection with its autonomous, micro-sized, ultra-portable, aquatic drones.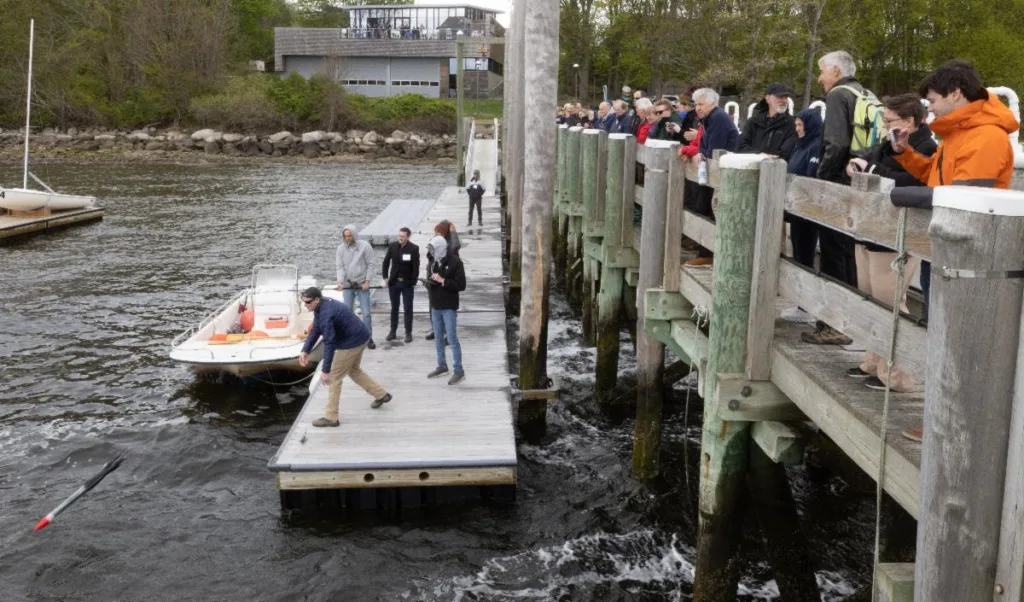 Jaia Robotics is democratizing data collection with its autonomous, micro-sized, ultra-portable, aquatic drones.  
JAIA demonstrated a pod of JaiaBots at the May 4 Equipment Demo Day. They were deployed off the dock just to the north of the RWU Sailing Center (Pictured). They transited in unison around a target, completed their mission by showing figure eights, profile dives, and station keeping, all to demonstrate the speed and accuracy they are capable of. Attendees were able to see the vehicles as they move across the surface and as they dived underwater to provide full water column data.
Pictured: The Jaia team deploying a JaiaBot off the dock at RWU.
Roger Williams University Student Teams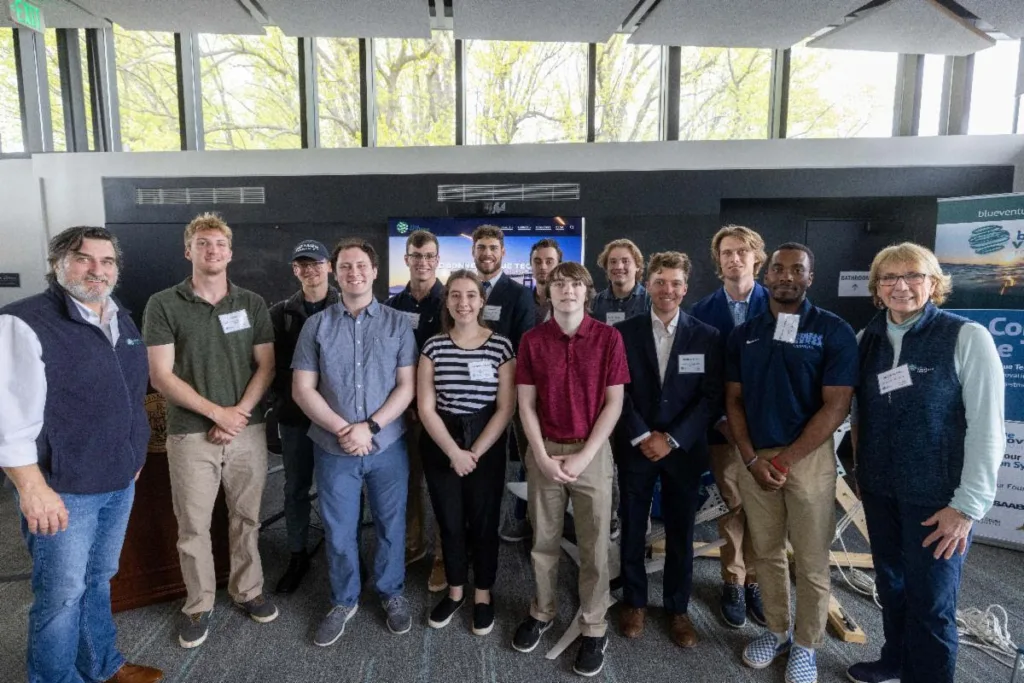 We ended the day by showcasing the student research taking place at Roger Williams University. Each team had 10 minutes to present their work, and demonstrate their prototypes. This research included:
Atmospheric Microplastic Fallout Collector Design and Implementation

Sailboat Mast-Mounted Wind Turbine

Portable Microplastic Detection Device
It was clear, from these presentations, that RWU is doing a great job preparing the next generation of Blue Economy leaders.
Partial List of Investors at Demo Day 2023
DTN VENTURES has been investing in the private markets since the mid-2000s across a number of different verticals, including Media & Entertainment, Logistics, Infrastructure, Telecom, Technology Renewable Resources, and Energy & Power. Our most interesting investments have operated at the intersection of one or more of these verticals. https://dtnventures.com
PROPELLER VC is a $100M climate-tech fund that invests in and builds ocean-climate companies that use science and technology to address the climate crisis. Founded in 2022, Propeller leverages deep scientific expertise and a strong network provided by its unique partnership with Woods Hole Oceanographic Institution to accelerate companies working in the $2.5T blue economy. www.propellervc.com
BEACON ANGELS is a Boston-based angel group that invests in the $50,000 to $400,000 range in early-stage, fast-growing companies. Since our 2006 founding, Beacon has helped grow many successful New England-based startup companies. Exits so far, in multiples from 0.5X to 8X, have returned several millions of dollars of proceeds to Beacon member investors, with an IRR of net cash returned plus estimated valuation increases significantly exceeding amounts invested. https://beaconangels.com/
GREAT MOUNTAIN PARTNERS (GMP) provides institutional investors with guidance for their strategic investment portfolios and offers origination & diligence, management, and governance solutions for direct investments in a number of sectors including blue technology, media & entertainment, infrastructure, transportation, energy and financial services. https://www.gmp.llc/
BLUE ANGEL INVESTORS prioritizes profit-driven bluetech opportunities. We expect that most will also have positive environmental outcomes due to their business models, which could include climate change mitigation, overfishing reduction, water quality improvements, sustainable energy innovation, environmental and infrastructure monitoring, and much more. https://www.sea-ahead.com/blue-angels
MASSACHUSETTS CLEAN ENERGY CENTER funds seed and early-stage climatetech start-ups that face funding gaps that threaten their path to market. It is a $50M fund that provides $500K in early stage financing. They also offer venture debt, ranging from $100K-$1.5M. https://www.masscec.com/funding
SACHEM STRATEGIES is a boutique consulting firm that advises leading businesses on government relations. We use our extensive connections, resources, and expertise to provide unparalleled interaction with federal policymakers. Our clients represent an array of industries, including technology, defense, energy, and financial services. https://sachemstrategies.com
SLATER TECHNOLOGY FUND is an evergreen not-for-profit seed fund dedicated to supporting new venture development in Rhode Island. We invest in early-stage technology ventures founded by entrepreneurs who have the vision, courage and tenacity to build companies that aim to achieve transformational impact in the industries or markets they serve. https://slaterfund.com/
RIGHTHILL VENTURES was founded by the Slater Technology Fund to provide venture capital and other support to early-stage technology companies commercializing the most promising R&D coming from universities' ecosystems. https://righthill.vc/
TIDEPOOLE is an advisory and consulting firm working with emerging technologies in the IoT, marine, energy and sustainability markets. They provide Angel and seed funding for marine and blue-tech companies. https://tidepoole.com
LAUNCHPAD VENTURES is always seeking creative startups with dedicated founders. We aim to build close, long-term relationships with innovative tech and science-driven startups. We support our capital investments with advice & mentorship. We support early stage science tech-driven startups. Launchpadventuregroup.com